2010 Mercedes Benz SL63 AMG
Specifications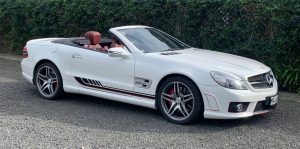 The 2010 Mercedes Benz SL63 AMG with 7 speed auto, 2 door, with metal convertible roof
body, comes with a V8 6208 cm3, 386kw engine. Acceleration is estimated as follows…
0-100kms in 4.0secs, 0-160kph in 8.7secs and 0-200kph in 13.4secs with the standing
quarter mile drag in 12.1secs.
Recently I met with Mercedes Benz Club – Auckland's newly elected President, Mike Peters
and his wife Deepa who own the beautiful Diamond White Metallic, 2010 Mercedes Benz
SL63 AMG. They have been members of the Auckland Club since Jan 2020. Their car was
imported from Singapore in Feb 2019. It came with Red Leather upholstery and Ash tree
black trim and has only travelled 87500 kms.
I asked Mike how they came to own the SL63 and he said he was driving a Honda S2000
which he traded on a 2003 SL500 (300HP), but decided that wasn't powerful enough and
when the SL63 showed up it was a no brainer to trade up. They both enjoy driving the SL63
and have named it "Wolfgang".
Mike says the car lives in the garage during the week and sees the light of day at the
weekends and as a regular attendee on club outings. He gave it an awakening on the grass
at our recent Gymkhana and it's power was overwhelming.
SL63 Coupes are a great looking car, and we are lucky to have this one in the club.
Rod Philson July 2022