Our 3rd annual Top Down Tour to southeast Auckland's Pohutukawa Coast was enjoyed by 39 of us, under clear sunny skies. A total of 19 Mercedes including 11 convertibles and some open sunroofs did the run, with two more convertibles joining us for lunch. It was nice to welcome 11 new members amongst us.
Starting at Manukau City, we first stopped at Totara Park reserve. Then it was a strenuous climb on foot to the trig station at the top of Tuscany Heights Reserve, for views over Auckland to the bridge and to get the quiz question answered. Then on to Trig Road, possibly the only one without a trig station!
We reached the causeway at Potts Road at high tide, with good views of the Tamaki strait to Waiheke Island. On to Pine Harbour Marina, with the lifeboat on show from the Russian Cruise ship Mikhail Lermontov, which sank 30 years ago in the Marlborough Sounds after the harbourmaster pilot took it on a passage too shallow to be safe. Next to the lifeboat is the Rainbow Warrior anchor and winch, mementos of another sinking the year before, this one intentional by French agents. Nearby was the Motorsport Museum, a private collection open by arrangement. We spotted a 190SL Mercedes in the room along with a number of rare cars and motorcycles.
On to the Omana Regional Park waterfront at Maraetai, a popular beach spot with cafes, where a swim was tempting but resisted. And then to Twilight Road, known as one of the region's top driving roads, ending at the Chef's Kitchen for a convivial open air lunch.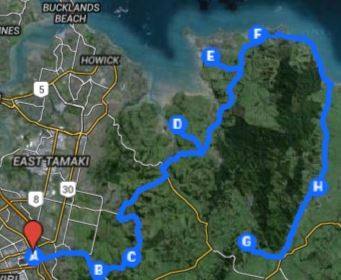 To our surprise this time we won the quiz (mostly due to Clare), and we found that the prize of a nice Australian wine was even wrapped in specially printed paper complete with our Tour title and pictures of Mercedes convertibles – the attention to detail did not go unnoticed! We look forward to the next Top Down Tour.All agreed, a well organised and enjoyable day courtesy of Club Captains Barbara & Greg Lokes who created another interesting route, including many spots that were new to most of us, even though we live here. Their fun quiz kept us on our toes, with many facebook photos and a video to cap it off. Congratulations to them for their time and effort, which was much appreciated.
Richard & Clare Veber
Click here to view the photos on our Gallery page