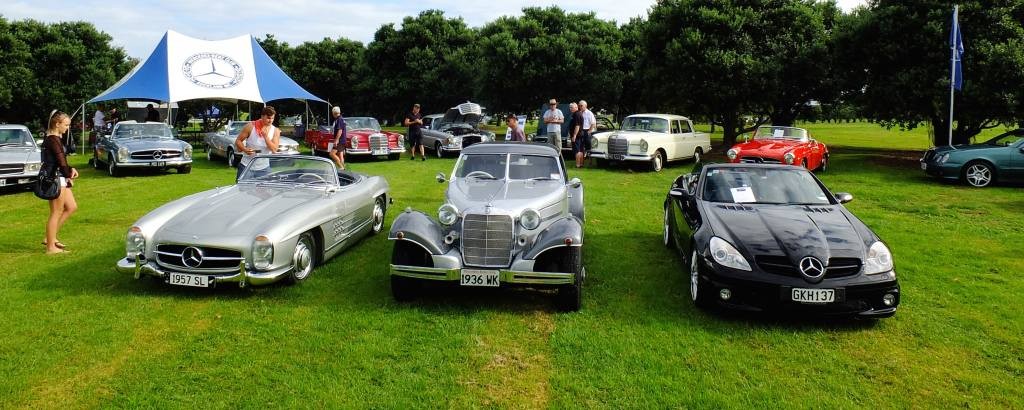 Last May I got a call from a motor racing friend who suggested that being a Mercedes enthusiast I should attend a meeting of car club people who wanted to have a car show just for British & European cars. Of course I went along to see what was happening.
There were representatives from several Clubs, mostly Jaguar, but MG, Aston, Ferrari, BMW and Mercedes were all there. The feeling was that the Galaxy of Cars was getting a bit large and disjointed by moving to Western Springs, and there were more and more American cars and Hotrods. We all felt a new Show should be a success.
Richard Waugh and Laurie Hayward from Jaguar Club were the prime movers behind this project. When they outlined plans and costs for the website and adverts etc, it was agreed to ask Clubs for a $250 donation, and our Mercedes Club quickly contributed its support. I was not able to attend all the meetings so I asked Graeme Collie to stand in for our Club.
The end result on Sunday 6th March at Lord Elsmore Park in Auckland was a resounding success! Over 400 cars from lots of Car Clubs. The Jaguar Club had over 50 entries. Our Mercedes Club had 21 of our beautiful cars on display, along with our marquee and Bill Bray on the BBQ.
Our oldest car was Garry Boyce's 1957 300SL roadster, then my 1958 220S Cabriolet, then Colin Carran's 1960 190SL. Lloyd & Trish Marx brought their 220SE convertible and their 280SE 3.5 coupe all the way from Pirongia.
The 'modern' category 'People's Choice' was won by Daryl and Janine Jeffery's SLK 55, with 2nd equal going to John Stratton's 300E-24 and Brian Hood's CLK 240 convertible.
The 'pre 1980' 'People's Choice' category went to Garry and Alison's 300SL, with Lloyd and Trish's 220SE convertible 2nd place.
The venue is fabulous with plenty of open grass space and rows of pohutukawa trees to shade from the hot sun, which shone most of the day. All in all a most pleasant day and very well organised. There will be some feedback, however, regarding the coffee supply and the music volume.
We look forward to next year.
Ken Williams
Click here to view more photos on our Gallery page.