On a wild, wet, wintry Auckland night, an award winning Pagoda ventured out. Behind the wheel – a reluctant, scared and nervous driver.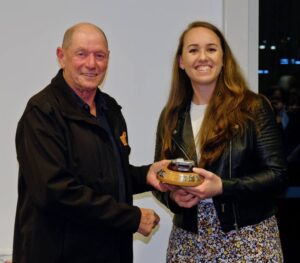 Christina Webster had never driven her mother's Concours winning SL230 before, and was extremely apprehensive given the stormy conditions.
"I told Mum I had never driven it, but she insisted the car had to be here."
The powder blue 1966 SL, in supreme Concours 2021 condition, made it unscathed to the Auckland Club's annual prize giving despite the extreme weather conditions.
Mother Penny Webster was out of town unable to make it to the prize giving at the Royal Akarana Yacht Club, but still determined her car should get the trophy and accolade it deserved.
A different trophy went to veteran club member David Winn who secured the Concours public vote at the Brit & Euro for favourite car with his 280 CE.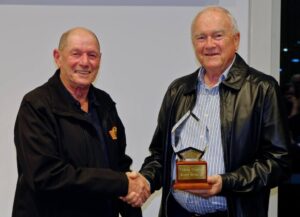 In another public vote from the same event, Chris Halliday collected a trophy for best kept car – won after a shameless public relations effort telling all and sundry he had cleaned his engine bay!
The Club's coveted Wooden Spoon award went to stirrer Sue Iles who jump started a craze for metallic blue, Mercedes emblazoned, bling handbags which several husbands were forced to buy for their better halves.
Grass Gymkhana Champ Ken Williams maintained his "evergreen" record for being as quick on turf as well as tar, while fiery red head Barbara Lokes got the chequered flag for the women. Next generation William Morton sped off with the modern car trophy.
President's award went to hardworking and "make it happen" Daryl Jeffery.
New club member Robert Reynolds, proud owner of 1989 500 SEL, made a big hit at the event. A dashing figure in his tweed jacket and houndstooth scarf, he recently returned home to Auckland after more than a decade offshore.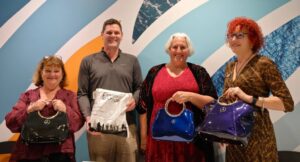 Robert's love affair with cars began before he was even born when his mother's waters broke in the back seat of the family Holden on its way to National Women's hospital in Greenlane. The 1955 FJ sedan is still in the family and currently being fully restored so that Robert can take his 96 year old mother for a spin around the block!
The full list of prize winners is here.
Click here to view more photos on our Gallery page.
Rachel and Geoff Bogue