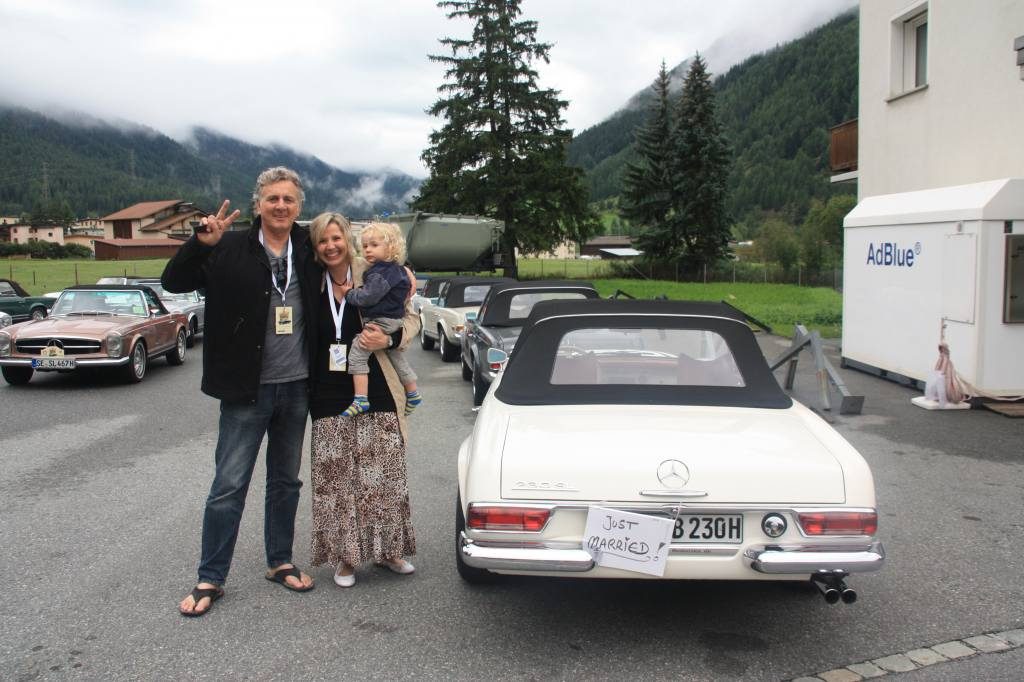 What's the start of a fairy tale again? It just fits so perfectly, this story has to begin like one… Once upon a time, or mid-July this year, Andru, Claudia and Joe boarded a plane to Frankfurt/Germany to visit my home town and spend some quality time with Joe's grandparents and my relatives. We had little planned and lots of ideas on what to do during this 2-month long holiday. My hometown Staufenberg- Mainzlar in the centrally located county 'Hesse' has just 4,500 inhabitants and lives and breathes through its 1200 years of history. Cobblestone streets, a supermarket, hair dresser, bake house, a branch of the rural bank, the post, and last but not least the traditional ol' pub on the main road – that's the highlights of this awesome little town. Or put differently… 'If the post box gets emptied in Mainzlar a day early, it'll be the talk of the town for weeks to come.'
I love being at home for a holiday, especially in summer. Everyone is in a good mood, the air is geared up with the smell of sausages frying on the swinging BBQs in the backyards and the soft breeze around my nose is breaking through the heat of the day. Can a holiday really be more special than this?
Knowing that Andru would have appreciated to see a few Pagodas and have a yarn to a few German owners about their pretty bits and bolts while in Germany, I already tried making contact with the German SL-Club Pagode during our last holiday in 2016, but a meetup failed due to time constraints. You might ask yourself whether you have read this correctly – a Merc Club, just for Pagodas? Yes, that's right and it has hundreds of members that are as madly in love with their classics as we Kiwis are with ours.
Three weeks into our holiday, I finally had some time to check out their website for upcoming Club Events with little hope that we would find something suitable to meet our already tight travel schedule. And in what should we be turning up in? The old beaten-up, Citroen C5 my dad graciously lent us so that we didn't have to rent a vehicle while over there? Not quite a Pagoda. Some doubts remained whether this was a good idea. Never mind, I thought at least I should try. I spoke to Hans-Peter Thiel, the head of the Regional Club Hesse and, as it turned out, just three weeks later the annual Pagoda Meet was scheduled to take place in the picturesque and famous Davos village in the Swiss Alps. 150 Pagodas, 300 members and the most exciting fun run routes planned with breath-taking alpine views all in great company of Pagoda owners was up for grabs. I felt like I'd won Lotto!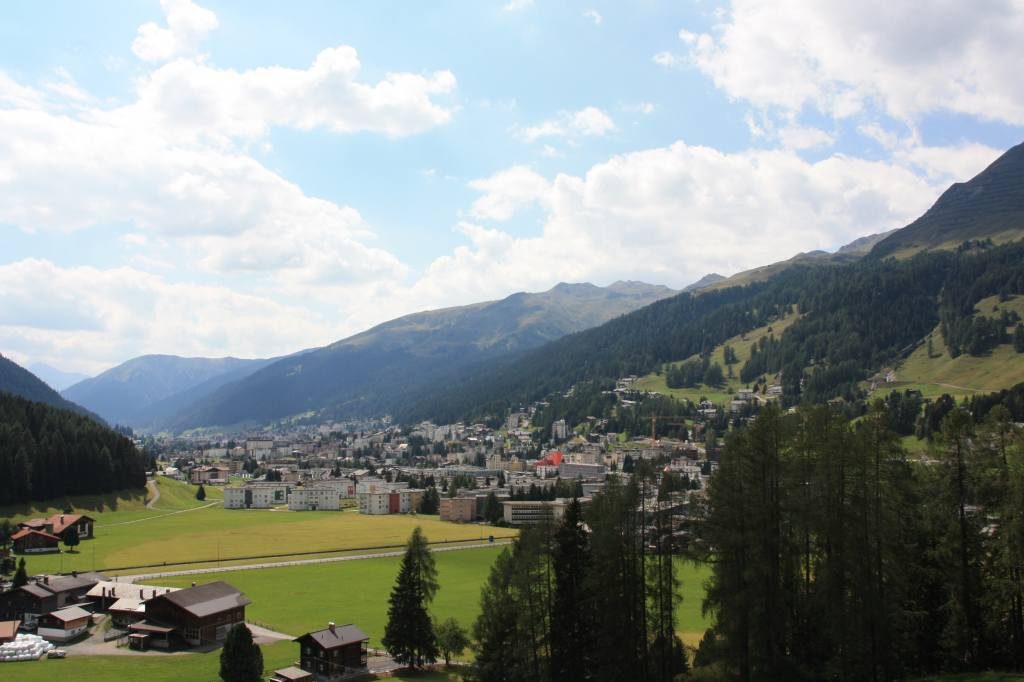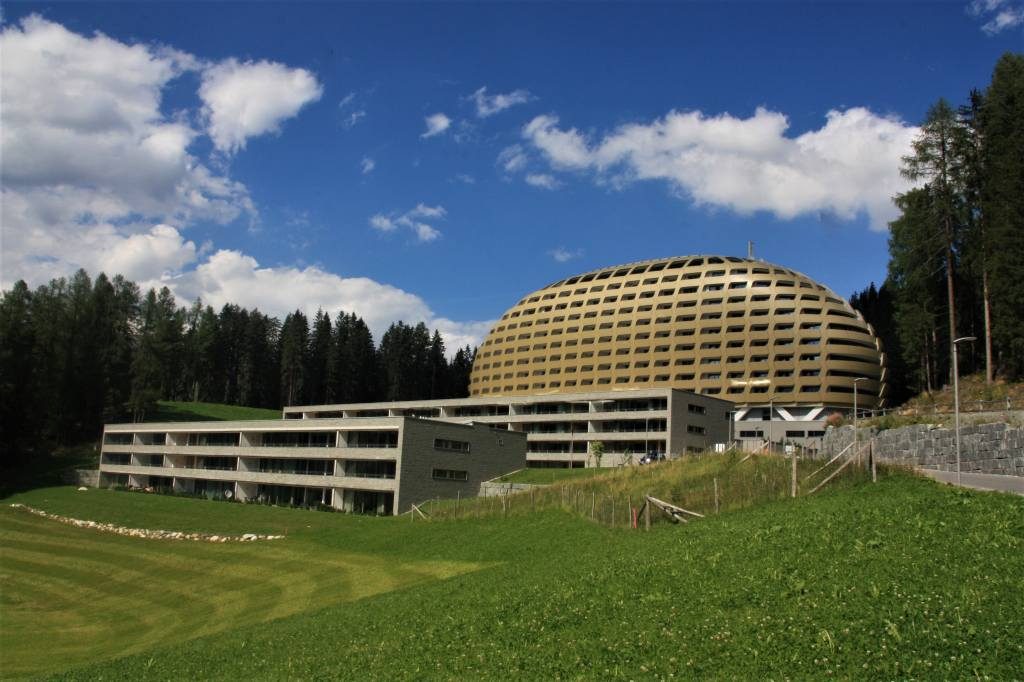 I signed us up to the room that had just become available due to a last minute cancellation. Crazy, we're going to Switzerland! I drip-fed Andru with basic information about the event from there on – just enough to keep him guessing what the 'Weekend of a Lifetime' that I had promised him might entail. August 17th came and we took on the 600km journey down south to meet Hans-Peter and his wife Brigitte at the fantastic Lake Constance. What a welcome – they took us in as if we were long lost friends. What else would the weekend hold for us if already the first couple we meet welcomed us as kindly as these two? Little did we know. Upon our arrival in Davos, we checked into the wonderful Intercontinental Davos Hotel. Nestled in pines way above town and Davos' gorgeous lake, this building was a stunner, as was the view from the room.
Friday early afternoon we were welcomed by the amazing crew of the Pagode Club Lake Constance/ Switzerland, the organisers of the annual meet. And then the heavens opened and one Pagoda after another flooded in. Amazing! I tell you what – that weekend one could really think that Pagodas are common as muck. All colours, all different types of interiors, all conditions. We had some time before the official opening in the late afternoon and checked out the covered parking lot of the hotel. Around 150 parking spaces, all taken by Pagodas. We were speechless and stunned – we certainly had never seen anything like this.
The evening event was very special and led us and 300 others up on the Schatzalp high above Davos – a special venue with an incredible 180-degree view over the valley. It was that night we met Janine and Michael, the head tech of the SL-Club Pagode and professional Pagoda restorer. This lovely couple from Lake Constance were instantly taken by the fact that we were Kiwis. Janine had been in New Zealand many years back travelling and totally loved it. She said she'd been trying to convince Michael to take leave and visit New Zealand for quite a while, but nothing had convinced him so far to drop the tools and put the business on hold for a holiday. We instantly had a great connection. After a marvellous 3 course meal at the Schatzalp followed some instructions on how the second day of the meet would go.

A selection of 10 different routes through the Swiss Alps in Pagoda convoys. Every member was able to choose the route they wanted to take. We had been allocated the free space for the couple that cancelled. We weren't quite sure how we would take part in the run with the Citroen, but considered following the convoy in order not to cause too much distraction. In saying that, it was the surprise of a lifetime when Michael and Janine offered us their Pagoda to drive on the longest tour of the weekend. Michael's 230SL was mint, out of the box, and fully restored. White with red leather interior. This was hard to believe… Andru was about to drive the first time ever on European roads and it would be in the Swiss Alps in a fully restored Pagoda. A DREAM COME TRUE!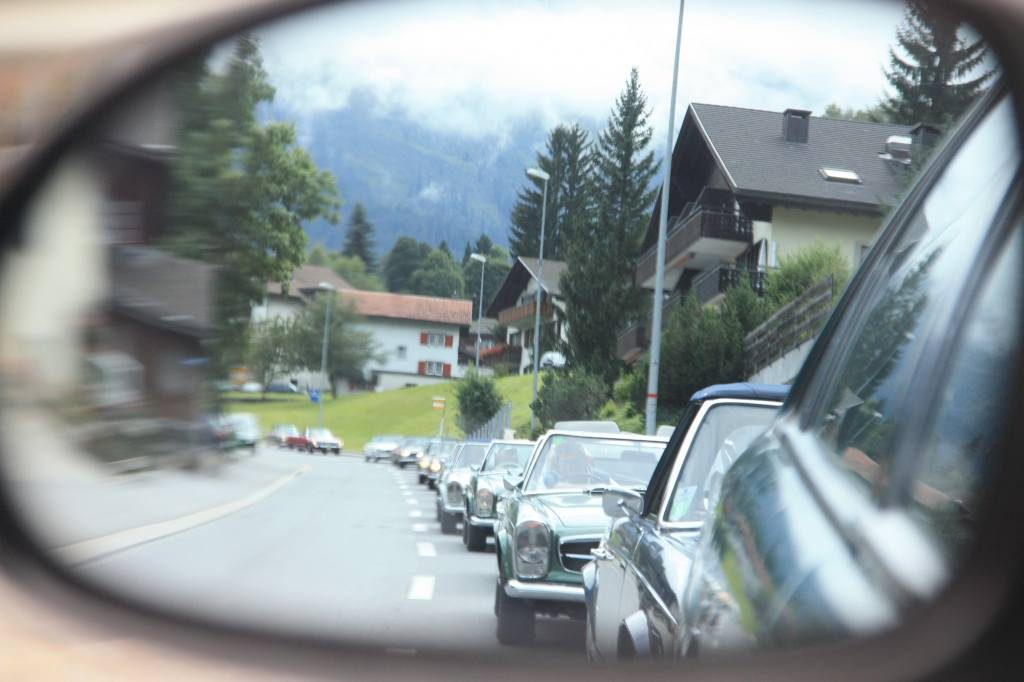 That day was absolutely amazing. We saw fantastic places, drove stunning roads, and shared great laughs with the group, particularly when we saw what Michael and Janine had added to the back plate. Two weeks earlier, we got married in Mainzlar – a homage on the big day. How fantastic… didn't I tell you this had become a real fairy tale? We visited St. Moritz and had High Tea at the famous Badrutt's Palace Hotel. Another magic moment that made our weekend, Swiss hot chocolate in one of the most amazing settings of the tour. After another fantastic dinner and gaining some more wonderful friends, we started our last day of the weekend with a gondola ride. All 150 Pagodas in the same convoy – and we're in the middle. Almost incredible but my side mirror did not lie!
The organisation of this event was flawless and never overlooked the constraints that 150 vehicles and 300 people bring. Seeing them all parked next to another in the sunshine made a wonderful and unbelievable picture. Andru, Joe and I had been treated like very special friends. It is not normally ok to attend this annual event without being members of the club, let alone coming with a car other than a Pagoda. Having been able to take part in this wonderful experience makes us extremely thankful to all those that welcomed us into their world as if we were well-known friends. Hans-Peter and his wife even twisted the board's arm to let us become members of the club. I am so thrilled we are now part of this community of wonderful people.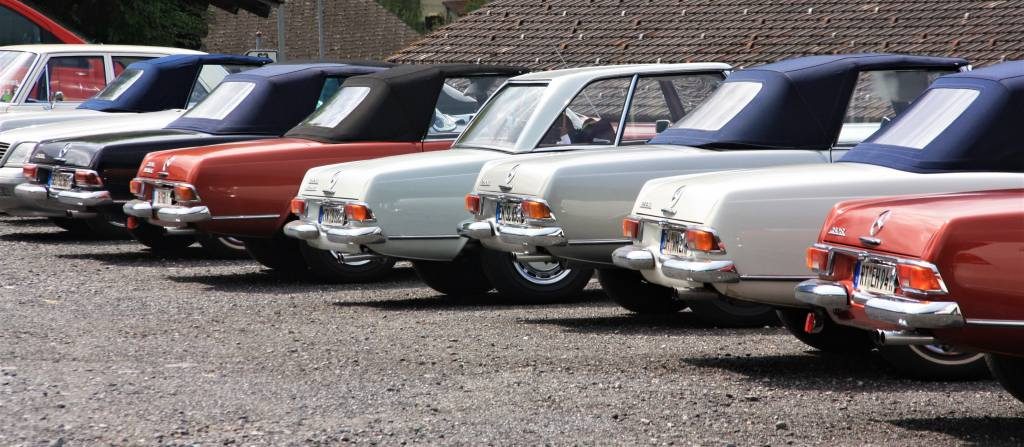 We will be sure not to miss next year's big annual meet in Berlin, which will take place mid-August 2018. Whether this experience in Switzerland will ever be beaten is another question. A weekend of a lifetime like this is not going to be easy to beat. Not often does a weekend with strangers generate some true friends, some of which we are looking to welcome in New Zealand for their special holiday this February. We can't wait! That's when the story continues…. so stay tuned.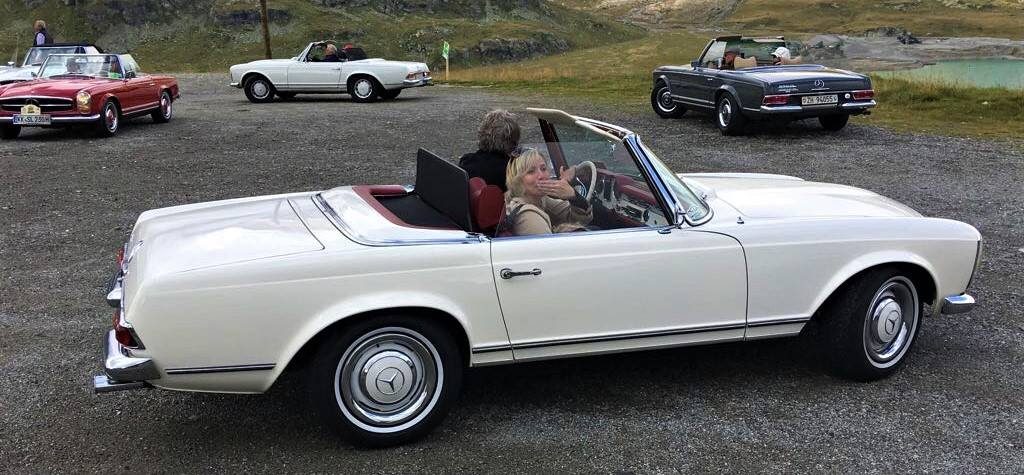 Claudia Schoushkoff
Click here to view more photos on our Gallery page.