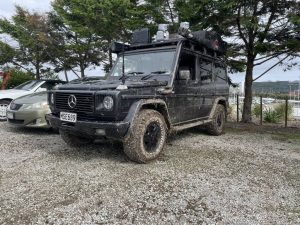 Way back in May, Trevor very kindly offered to take some of us for a day's off-roading in his 1993 G300 G-Wagen.
For those of you who have seen his particular G-Wagen, you will have noticed that it is no "Remuera Tractor" – it is fully spec'ed to go off-roading and stay in the wilderness for a week or so. Trevor has equipped it with life's necessities such as off-road tyres, snorkel, gas cans, CB radio, extraction equipment, a roof-mounted tent, awning, shower, BBQ, fridge, lighting, table, chairs and an inverter – to name just the obvious gear.
And it isn't just well-equipped, the G-Wagen has been finished to a high standard. It's almost too nice to go bush bashing in!
Unfortunately, it has since been sold so any further adventures await the new owner.
We did get a taste of the G-Wagen's capabilities at our annual Gymkhana where, not only did Trevor come to the rescue of multiple cars on multiple occasions to tow them to safety from the wet and muddy course, but he also sent his mighty steed around our course and set the second-fastest time of the day!
Anyway, there were two of us (Arthur and I) who gladly accepted Trevor's offer of a fun-filled day, frolicking amongst the sand dunes and bush of the Northern gateway to the Kaipara Harbour.
We were warned it was going to be a full and long day and we assembled at Trevor's place for a departure at 5.30am on a Saturday morning.
I thought we were leaving so early to beat the usual Saturday morning traffic, but it turned out we were meeting another 8 vehicles in Dargaville at 8am…
As the rag-tag bunch of 4×4 machinery duly arrived in Dargaville and topped up with fuel while some of us got supplies for lunch and for dinner, others fuelled themselves up with healthy breakfasts of coffee and pies.
I could tell that these were serious off-roaders!
Most of the other vehicles were similarly kitted out like Trevor's, although there were also a few that had very little onboard and were clearly there just for the day.
After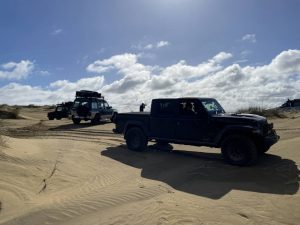 a quick briefing, we all piled onboard and convoyed out to a place called Glinks Gully where we accessed Ripiro Beach, over 50km North of the mouth of the Kaipara Harbour. Everyone stopped to let most of the air out of their tyres before heading South along the beach towards North Kaipara Heads.
Clearly we were going to go way off the beaten track!
Driving South along the wide expanse of the beach was an experience not easily forgotten – high speed along the packed sand but looking out for soft sand patches, and then having to slow down for sudden dips, water run-offs and all the while looking out for semi-hidden logs and other obstacles.
The G-Wagen was completely untroubled by this very easy warm-up to some more challenging events later on.
Shortly, we turned left and headed into the massive sand dunes for some real off-roading.
Once we easily went up and over the first dunes, first up was an overgrown, slick goat-track, washed out by the recent rain which wound its way up the side of a hill to the top.
Once the more confident trucks made their way, it was our turn.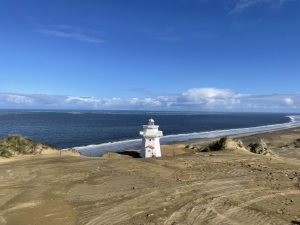 Low range and diff locks (the G has three of them!) were engaged and off we went. Surely there was no way that we can get up this track? I'd have trouble walking up it!
Soon we were powering along, with some alarming angles being caused by the washouts – I swear that we were going to end up on our side! But the G simply took it all in its stride, with Trevor coaxing it along when needed.
It was time for me to start recalibrating my mind on what was possible in this mighty beast!
While we were playing around in the wilderness, there were a few casualties – a stuck vehicle and one that stalled and wouldn't start again but, after about an hour, they were back with us.
Apparently, this is what true off-roading is all about – tearing around looking for good spots to test your driving and your vehicle, driving in places that motorised vehicles really shouldn't go, and hanging around when they break or get stuck.
We found three or four good spots to test our vehicles, the most scenic being the lighthouse at North Kaipara Heads where we also stopped for lunch and witnessed a storm roll in from the ocean.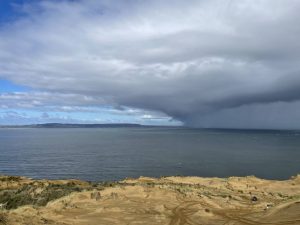 After lunch it was more of the same with sand dunes, shirt-fronts, goat tracks, bush bashing and more waiting around as stuck and broken vehicles were rescued and repaired.
Trevor's G didn't get stuck at all and continued to be impressive off-road, almost always amazing me with its ability to go where my brain said it couldn't!
Soon it was evening and we decided to travel in convoy to find a place among the dunes where we could set up camp for an evening meal before heading back along the beach to civilisation.
Well, that was the plan until one of our vehicles once more decided it was going no further and stopped dead.
We all returned to its aid but it refused to start. After another hour spent waiting around, with light rapidly fading, we hooked our fallen comrade up to one of the others and towed it out onto the beach where we corralled the fleet as best we could to shelter from the wind and cooked up our hearty BBQ meals by LED lights in the pitch darkness.
Once we had all eaten our fill, we packed up and travelled North along the beach, looking for signs of civilisation that was Glinks Gully.
It was a tense trip back as we flanked and followed our stricken comrade, being towed slowly behind another vehicle.
What added to the tension was the fact that we didn't have the reference points of the sea on one side and the sand dunes on the other that we had in the daylight. We were all very conscious of straying too far into the wet sand and getting stuck, or straying the other way and getting beached in the soft sand by the dunes.
And all the while searching in the darkness just out of range of our lights ahead for things like the half-buried logs and water run-offs we had so easily seen on our trip down.
The darkness surrounding our small fleet of off-roaders was so black in was almost sensory-depriving…
After a (thankfully) uneventful but long 50km journey back along the beach, the lights of Glinks Gully started to blink in the darkness where a tow back to civilisation was arranged for those who needed it, everyone pumped air back into their tyres, we all said our goodbyes and headed off home.
It was a silent trip back to Auckland in the G, with me and Arthur possibly nodding off a few times, but Trevor steadfastly pointing us home.
We didn't get back to Trevor's place until well after 11pm – but what a day of adventure!
Thank you, Trev, for allowing us to experience some amazing scenery and showing just what a proper off-roader should be used for!
Mike Peters