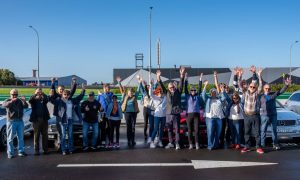 Following the disappointment of having to cancel this event last year due to COVID, I was excited to be on a long trip and away overnight.  I love Janine's black car and she is great on the open road and can really get up and go.
After a week of rain, the forecast was true, and it dawned sunny.  Not what you expect on a long holiday weekend. So, it was roof off and top down.  After a brief briefing from Mike, 11 cars headed off, up a special route planned to avoid the State Highway and use the more scenic roads.  After picking up John and Evelyn at Kaukapakapa we made it to Matakana for Brunch, with me enjoying the view as Janine drove.  After the break Janine swapped navigators and Sue jumped into the car and I went with Arthur in his R129.  For a 90s car it has got great suspension and handled the coast road with aplomb.
We could not stay off SH1 for ever and had a short blast up from Waipu to Maungatapere where Mike had arranged a private tour of the Packard Museum.  It is not just a car museum with Par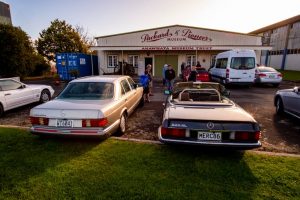 kards, but old trucks, tractors, diggers, army equipment, motorbikes, and whole lot of memorabilia.  Frank and Lynn Parker made a surprise appearance.  It was great to see them.
After checking into the hotel Chris Haliday took Angelique, Graham and I on a manhunt.  To hunt down an old sea dog from England, who he was following on YouTube.  His boat was rumoured to be in the Whangārei Basin.  After sneaking onto the jetties, we did find Barry and we shared a few stories with him before we had dinner.
Next day we were off for a drive though picturesque Northland.  Made even more idyllic by the mist covering the rolling hills.  We were off to The Old Parakao Store, on roads I had never been on.  Again, I was relegated to the navigator's seat but was kept entertained with radio banter between me and Mike who was also not allowed to drive.  A growing trend in the club.  The Old Parakao Store was a magical place filled with all sorts of moving vehicles in every state of repai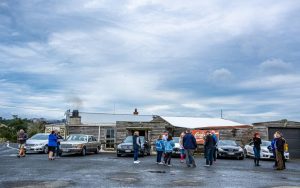 r, or disrepair.  Greg captured this place with awesome photos.  It even has a dirt drag strip.
After brunch we split and our separate ways, with some staying and some, like us, heading home.  We will have to go north again sometime.  Maybe a grass gymkhana at Frank's and drag racing at The Old Parakao Store.
Daryl Jeffries
Click here to view photos on our Gallery page.