Garry's passion for classic cars has been ongoing throughout his life, from both a car performance and engineering point of view.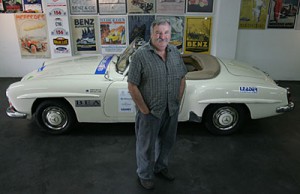 But his passion for the classic car as an art form is a twenty-year phenomenon. One aptly signified by the legend painted across the central support beam of his impressive Parnell garage: 'Finer 20th Century Automobiles, Examples of Highly Complex and Mobile Three Dimensional Craftsmanship, Are Higher Forms of Art and Design Than Mere Two Dimensional Paintings or Sculpture'.
The other love of his life, Alison, he met in 1975 and married in 1977. From time to time Alison thinks his passion for classic cars is his obsession. But one she totally supports with a candid philosophy, "I know who the mistresses are… they're downstairs and I can see them every day."
For Garry, it all started when, as a 15-year-old apprentice fitter and turner, he became heavily involved in car culture. Throughout his ensuing career, he gained an attitude toward excellence in everything he did, and a profound appreciation for excellence in cars.
The first of the baby boomers, Garry was born in Rangiora in 1946 and schooled in Christchurch. Leaving school at the end of the 4th Form, he started his apprenticeship earning the grand sum of £3/2/6 ($6.25) per week. Garry's career spanned a number of engineering positions and in 1973, on return from his OE in Europe, he became a divisional manager of engineering company Moyes & Groves. With the liberalisation of import licensing in the 1980s, Garry started his own importing and distribution company for domestic plumbing fittings sourced from Germany, Netherlands and Italy. A business he ran for 19 years and sold to an Australian corporate in 2008.
During his early years, Garry would have been classed a 'boy racer' in todays' terms. He started out with mopeds and motorcycles and then came his first car, a 1933 Y Model Ford 8. "It wouldn't pull the skin off a rice pudding!" says Garry. Progression from there:
1946 Fiat Topolino
Whaleback Vanguard
A40 Farina
Renault Dauphine Alpine
The Renault was the last non-Mercedes car he owned; he thought it was so cool. Over the next 18 years it was a series of company cars. "No comment!" says Garry, "You take what you get and you live with it."
Throughout his history, right since apprenticeship, Garry looked at Mercedes-Benz for innovation, build quality, longevity and engineering excellence, with a vow that one day he may be able to afford one. However it wasn't until 1988 that Garry bought his first Mercedes, a 190E 2,6. Then, in 1994, a new E320 W124 Coupé. Their only 'new' Mercedes ever, which was purchased direct from the Niederschlager in Hamburg, a sister company for direct purchase for export. From there he was hooked…
1994 – First classic – 1964 White 220 SECB Coupé
1998 – First SL – 1957 190SL – as there was no way he could afford a Gullwing or Roadster
1999 – First Pagoda – 1968 280SL, ZF 5-speed. A very rare and desirable car with only 26 RHD worldwide. Nicknamed the 'California Coupe', this car was recently on display in the 2013 California Art Exhibition at Auckland Art Gallery.
As Garry's collection grew his sights began to focus on acquiring the ultimate Mercedes – a 300SL Gullwing. A long-held dream since childhood with a picture of a Gullwing pinned on his wall at age 12. But this was a dream that seemed completely unobtainable due to its huge price, so he concentrated his efforts on the next best thing, a 300SL Roadster. In 2001, after years of searching, Garry came across a 1957 300SL Roadster in distressed condition in Eindhoven, Netherlands. He purchased the Roadster in pieces and imported in to New Zealand in 2003 as a container load "of cardboard boxes of junk", according to Alison. The five-year restoration project began in 2003 and was completed in 2008.
Garry's favourite car is without doubt the 300SL Roadster, which he describes as simply, "Drop dead gorgeous, scrumptious!" To this day, this car holds the highest points ever awarded to a Concours competition car in New Zealand – 565 out of 590 points in 2008. This same year, Garry took the car to Sonoma in Northern California, USA, for the Gullwing Group International Convention. Here, in competition with 68 other SL Gullwings and Roadsters, Garry's car was judged 'Best Show Roadster' and 'Best of Show'.
And his 300SL journey continues today. In 2003, Garry became aware of a Gullwing and Roadster in New Zealand, both in distressed situation. In 2007, after considerable persistence, he was able to purchase these cars. The decision was made to embark on the restoration of both cars simultaneously, in an endeavour to get some synergy. This worked well except for the bodies that were both in disastrous condition, even worse than the first Roadster. The 1956 Gullwing is one of the most valuable Mercedes-Benz classic cars in private hands, being Number 27 of the 29 aluminium body cars ever produced, hence its rarity and value. Both the 1957 Gullwing and 1958 Roadster are now in the last stages of restoration.
Garry's passion for the classic car as an art form has developed over twenty years to the point that he has visited what he perceives to be the best classic car museums and private collections in the world. It was hard to rate, but his top three would be: The Schtroumpf Collection in Mulhouse, France; The Keller Collection (private) in Northern California, USA; and The Mercedes-Benz Museum in Stuttgart, Germany.
His absolute passion is for cars in Concours condition and he's visited every major Concours event worldwide. This of course extends to New Zealand's own Intermarque Concours where Garry has been on the committee for eight years and chairman for four of these years; a role he currently holds. This work brings useful funds to the Mercedes-Benz Auckland Club, which has won the respected Concours Club competition twice. Garry is currently vice president of the Mercedes-Benz Auckland Club and has previously held the role of president for four years. An active member of the classic car scene, Garry also belongs to the International 190SL Group, and the 300SL Gullwing Group International for which he has been involved in running international rally tours in New Zealand. He is also a member of TACCOC, the Thoroughbred and Classic Car Owners Club for real 'petrol head' enthusiasts.
Garry's view into what drives his collector's enthusiasm: "I'm not in this hobby for the money, it's a passion. A classic car is an enjoyable piece of art that you can sit in, drive, polish, enjoy, and build camaraderie with like-minded friends and people. All of these aspects are as good if not better than any piece of art on the wall."
Alison Lambden