Saturday Run – Anqelique de Jong
This year a small group of Auckland members decided to meet up with the Midlands Club as they made their way to the Chateau in time for the obligatory drink by the fire beneath a vista of snow-capped mountains.
We met at Ronnies Café in Otorohanga, the home of Kiwiana, and were very warmly welcomed.  In a convoy of young and old (cars that is) we drove southwest past Waitomo on Highway 37 towards what is locally called the Natural Bridge for our first walk of the day.
Mangapohue Natural Bridge is undoubtedly one of those hidden gems that should be shared only with close friends and discussed in reverent whispers in public.  It will seriously make your heart sing and soul be filled with "green, mother nature" wonder as you wind your way next to the flowing river and marvel at the plant life clinging to the sheer dripping wet walls, all shades of green and then some.  Over thousands of years the gorge has been carved out and the roof of the cave hangs menacingly above – and you hope today isn't the day it decides to drop in on the party.  Add it to your bucket list, you'll be glad you did.
From there we headed west towards Marokopa on the coast and stopped to marvel at the majesty of the Marokopa Falls.  It's like Huka Falls on steroids and you must wonder why a hydro station hasn't been set up to harness all that pure energy.  We even came across a puzzling local tradition of dressing up the roadside barrier with the skin of a freshly killed wild pig, go figure!
Ready now for a spot of lunch after all that activity we headed back the way we came towards the Chateau, happy in that yet again we had experienced something unique and memorable making the early start on a Saturday morning truly worth it. If you're wondering about whether to go next year – DO IT!!
Chateau Lunch – Janine Jeffery
The Chateau Lunch organised by the Manawatu Club is one of the highlights on the Mercedes-Benz Club calendar. This was our third time attending and Daryl's first as National President.
Following on from the Midlands Club run, Daryl and I had a leisurely drive to the Chateau. Naturally the radar detector was essential along with our road trip music. Our intention had been to do a walk to the Taranaki Falls but due to rain we decided a drink in the Ruapehu Lounge while listening to the piano player was much more inviting. After dinner with the Hoods and Hobsons we were lucky enough to get to watch the All Blacks thrash Aussie on a full-size screen in the Chateau cinema.
We awoke on Sunday morning to blue skies and very crisp air. I was able to get some photos of very icy cars but due to the thick ice on the windscreen we decided to give the drive a miss. The car was so iced up the roof would not open and if it's not raining the Jeffery's do not drive with the roof closed.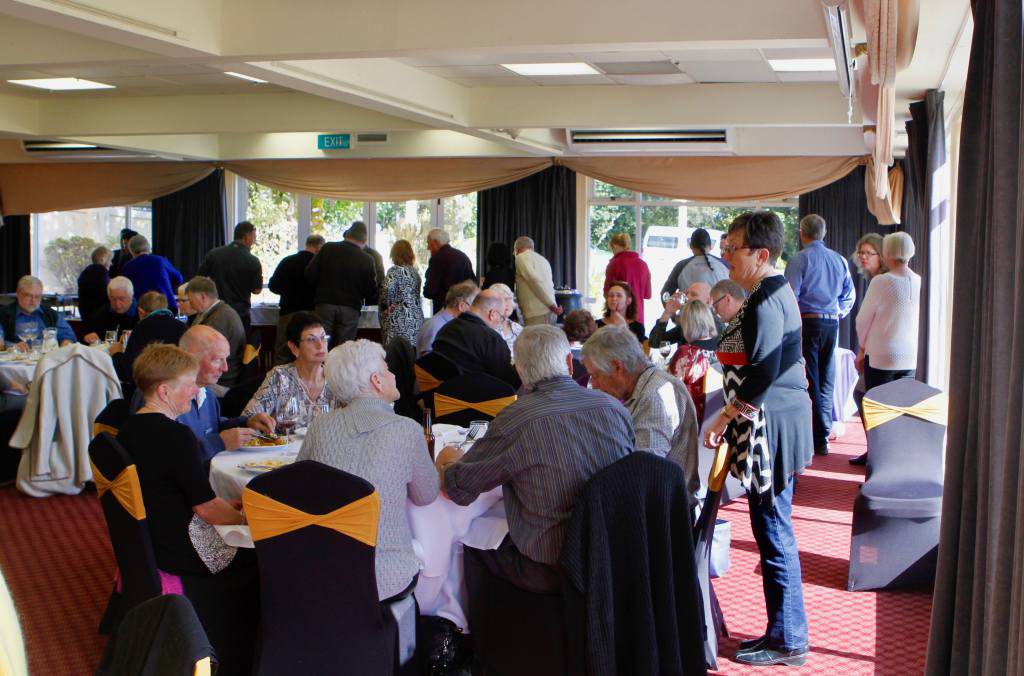 Around eleven a stream of Mercedes-Benz started to fill up the car park with the passengers eager to mingle with the other regional clubs. The lunch this year was in the delightful Tongariro Room with the normal great selection of appetising food.
After a welcome from Frances, Manawatu's President, we heard some musings from New Zealand's Patron Ian Longley, along with a poignant one minutes silence for Doug Anderson who passed away recently. Daryl then took the opportunity to thank everyone for coming, after which Ian Longley presented Harald Decker with his 200,000 km pin and Vivian Decker with the impressive 500,000 km pin and badge. All the ladies were also delighted to receive a bunch of daffodils.
I would like to thank all members that have supported Daryl in his new president's role; an unexpected and sometimes challenging job. I look forward to next years' Chateau weekend, the last weekend of August, and would encourage members to book early. It's always a delight to see so many Aucklanders attend and enjoy the companionship of members from other regional clubs.
Click here to view all photos on our Gallery page.