What happens when our husbands decide to book us wives in for a track day at Hampton Downs.
We stress, we don't sleep and we are petrified.
Janine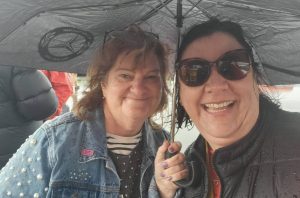 So Daryl decides it's time he takes my car around Hampton Downs on one of the track days so he books himself for 2 runs, one in his Camaro and one in my SLK55. He also figures its time I suck it up and get behind the wheel for some fun. Yeah right, I say.
We were up early to pick up our friends Anne Marie and Pete then onto meet up at BP and then cruise down to Hampton Downs. The car park was full of different cars all heading to show and shine, including a vast number from the American Muscle Group that we also belong to.
Down to a very wet and cold Show and Shine where I discovered my boots leak and a hot coffee was essential.
At 11 o'clock we registered for our drive, along with getting a drivers briefing. I did notice a couple of the wives from our club joined the briefing, just in case the husbands, who were driving, didn't listen to all the instructions.
Deepa was very relieved when she discovered that she couldn't miss the control car because it has lights on top. As it was wet the speed limit was reduced to 100 k from the normal 120k.
Then it was time to line up in the pits with my friend Anne Marie in the passenger's seat trying to calm me down. Daryl was several cars behind in the Camaro with the other American Muscl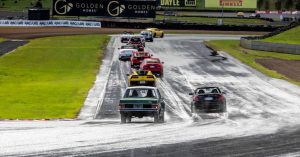 e cars ready to hunt me down in my little car.
The car started to steam up with my hyperventilating so I decided the roof had to go down and we were doing it topless. Off we went on a reasonably slow first lap, then foot down and it was all on. I remembered how much I love the speed and thrill of having complete control of my little car.
Cars were overtaken, corners sped around with water gushing from the tyres and gas fumes inhaled. No muscles cars in sight, they didn't get a chance to hunt me down and Anne Marie was all fine. She felt so safe with my lead foot driving that she has now requested a Mercedes for her Birthday.
It was all over far too quickly as we left the truck under another downpour of rain. Daryl grabbed the keys for his turn. Unfortunately I don't drive the Camaro so we just got to watch him and Pete tear up the straight probably a lot faster than we went.
Deepa
To drive or not to drive, was the question I was asking myself all week, before the grand event commenced at Hampton Downs on Sunday.
All sorts of emotions and excuses were running through me.
"Why did I sign up for this"? Oh yes, that's right, I didn't, my lovely husband did … ha-ha!  But he did it for a valid reason, to help me grow more confidence driving, what I call, our roaring beast of an SL63 AMG, which I still find slightly intimidating.
We headed off to the meeting point, on this cold overcast day, to meet up with our fellow club members. It was great to see so many members, which boosted my confidence, knowing I had a supportive crew around me.
Once we got to Hampton Downs and parked up, we had a chance to go and view the track and also the Skid Pan, which looked like a boy racer's dream.
Then it was time to put my big girl pants on and register for my time slot, and attend the drivers briefing. I was relieved to see Janine was also on the first run, as there weren't many other females joining us.
We sat in the front row eager to pay attention to every piece of advice shared by the track wardens. There was a briefing map, showing all the bends and loops, such as Porsche D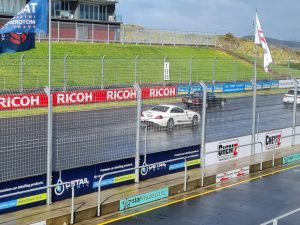 ipper and Fosters Hairpin, and now the thrill was starting to build, I was starting to feel a rush of excitement and wondered if this is how the F1 drivers felt before a race.
Because it was a wet day the track wardens advised that the driving speed would be between 80 – 100km, and that there would be a pace car that was not allowed to be passed … phew! That was a great relief to me, knowing that cars wouldn't be hooning past me and overtaking built my confidence that wee bit more.
We headed to our cars and queued up in rows of four cars across the grid. This was getting real now, and there was no reversing out of it.
I had my trusty husband Mike by my side, in case the panicking kicked in. But as soon as we started our engines and headed out of the pit onto the track, I knew I was going to LOVE every minute … WOOHOO! let the fun begin.
It felt fantastic swooping around the bends, and then adding a touch of speed on the straights, and I had the reassuring sight of the pace car ahead of me.
The five laps were over far too soon for my liking, it only felt like I had done two laps, and yes, I did want to have another go. So, guess who's going to be front of the queue signing up for the next track day.
Thank you Daryl and Janine for organising a thrilling event, and fabulous lunch stop.
Let's organise this event again, maybe without the rain, and how about more ladies get behind the wheel. Yes, you will be terrified, and the adrenaline will be pumping, but you will absolutely love having the same fun as the men folk and possibly be a more confident driver. Go on men, hand over the keys.
Deepa & Janine
Click here to view photos on our Gallery page.