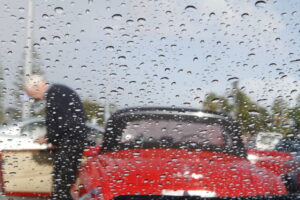 In the distant past before lockdown, Janine and I created this year's Top Down Tour and we were all set to go when we all had to stay home.  It was great to have the lockdown lifted so we could get out in our cars once again.  With a new date set we resurrected the plan.  There were a few issues.  Janine lost her little black book with all the questions in it during our lockdown spring clean.  She thought she would have to start again, but with luck we found it.
The day before the tour the weather was atrocious, and I had no idea on the number of people who would attend.  Being the 1st run after the COVID lockdown, would people be desperate to get out and rekindle old friendships or be still in lockdown mode?  Would the winter weather put them off bringing out their soft-tops?  The day dawned fine but with heavy showers looming.  We decided to head off early so we could be first there.  To at least greet anyone who braved the day.  As we pulled into the carpark there were already 8 Mercedes-Benz parked up.  I knew then that we would be having a big turnout.
It was great to meet Wayne Davidson from Dargaville, who had travelled a long way to just drop by and say hello.  After conversing on the phone, it was nice to talk in person.  Chris Haliday helped with the day's safety by providing safe cover for those cars that had hard tops.  There were quite a few first time attendees and great to see them.  Hope that you enjoyed the day and will be back.  There were a few people who had never been on a run before and looked a little lost.  Some quick arrangements were made which saw people buddied up into mini convoys.  Thanks to all those who helped on the day.  I know how nerve racking it can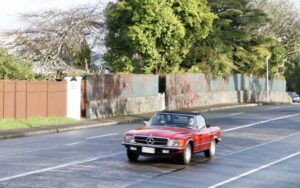 be to be followed.
Janine and I skipped the drive out to Musick point to find a spot for a photo opportunity.  To my surprise shortly after arriving the first car drove past and it was someone who was one of the last to start.  This puzzle was solved later over drinks when it was discovered that they did not realise that the instructions were double sided and had missed a whole page of the route.  The rest of the club filtered past and we moved off again not following the route and going straight to the end.  Which I discovered did not open until noon and we were 20 minutes early.  Still our hosts helped us and got us some refreshments as we waited for the pack to arrive.
As people arrived, we were entertained with stories of the adventures they had had gett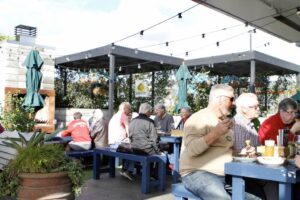 ing to the end.  From driving down one-way roads, that were not on the route.  Too long waiting at Clevedon to get past the roadworks.  The odd missed corner and subsequent U-turn.  Someone even stopped to do some shopping.  Reminder not to have a run while there is a market day on.  At least everyone arrived, albeit some were a little late.
When the questions were answered and the points totalled there was one clear winner, again.  Well done Angelique for a three-peat.  We hope that people found the cryptic questions a little easier than last year.
Daryl Jeffery