We gathered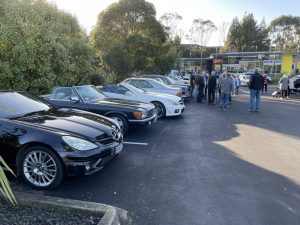 at the car park at the BP station in Drury before heading out in convoy for what was meant to be a short run to Ardmore. Ken and I missed the exit from the motorway but still managed to get to Ardmore in the middle of the bunch, with some help from the GPS. Driving north on Gt South Road seemed to confound some and there was a full circumnavigation of the airfield. Many comments about the poor quality of the signposting at Ardmore!
Having arrived at Ardmore we were split into two groups. One group started in the hangar with the World War I planes and memorabilia, and the other in the hangar with aircraft that date from the 1940s up to the jet age. We were guided by members of the club who also fly and/or work on the aircraft. They are very knowledgeable and patient. It seems that an enthusiasm for Mercedes engineering translates into a similar enthusiasm for aircraft.
If you haven't been to the Warbirds Collection, it is well worth the drive. NZ Warbirds at Ardmore hosts New Zealand's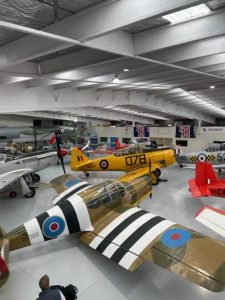 most diverse range of historic and airworthy aircraft. The planes are nearly all working aircraft, though of course the World War I models are replicas. Looking at them it is hard to see how the original planes might have survived take off let alone flying over enemy lines and dog fighting in the air.
Unfortunately we did not see any flying action but that is a reason to return.
Some of us stayed for lunch at the Ardmore Café for a good lunch.
Thank you Graeme for organising this event. It was a great day out, ideal for winter and the sun shone for those of us who went "top down".
Philippa West
Click here to view photos on our Gallery page.