What do you do when you're about to hit, or have just hit, your seventieth year? Do you put on a pair of comfy slippers, snuggle into your favourite armchair and watch the world go by?
Not if you're Garry Boyce and Ken Williams. In a few short weeks they're heading off to Argentina to compete in the 2016 Rally of the Incas. They will drive just under ten thousand kilometres over a period of 27 days, with just four days set aside as rest days. Kilometre after kilometre will be on gravel roads and they will also compete on twelve local race tracks. The rally takes in Machu Picchu and Lake Titicaca. The highest crossing of the Andes en route is 4810 m or 15780 ft.  Click here for more detail on the Rally of the Incas website.
The car they will be competing in is a 1964 Mercedes-Benz 220 SE Coupe. It was shipped to Argentina on 26th August in a forty foot container, along with a fellow Kiwi entrant's Morris Oxford. The rally ready 220 SE is a fascinating piece of restored precision German engineering and Kiwi ingenuity. We all know and love the engineering that goes into a Mercedes-Benz, but where does that leave room for Kiwi ingenuity? Well, firstly, all modifications had to be reversible so the car can be returned to normal after the rally.
In order to give some extra protection to the fuel tank on the many rocky sections of the race Garry removed the tank, spread Gladwrap over it and then proceeded to cover the underside with layer upon layer of fibreglass. Once hardened the fibreglass was removed from the tank (easily removed because of the Gladwrap), the tank was reinstalled along with the perfectly matching fibreglass mould on the underside. Choice!
One of the biggest concerns was protecting the fuel and brake lines on those same rocky sections. Ken came up with an ingenious idea. He obtained some garden hose, cut it to length and then slit it from end to end thus enabling him to slip the hose over the fuel and brake lines and then secured the hose with cable ties. Extra protection sorted. Now you would assume that Ken went down to his local hardware to purchase a length of garden hose. Crikey, that would be far too expensive! No, he rummaged around 'out the back' and found some discarded lengths of hose. Cheap as!
Of course it wouldn't be right if there wasn't some good old duct tape somewhere in this story. Garry and Ken obliged by extending the engine air intake by attaching a length of bendy plastic tubing with duct tape. This gained them extra height above water level (hopefully) for the many rivers they will have to ford. Any crossing that is deeper than this will be overcome with the use of a towel or blanket draped over the front of the car. Ken reckons it should work. Yeah, nah.
What to do with valuables, passports and spare cash on the rally was also an issue that needed to be solved. The solution? Weet-Bix. To be more precise a Weet-Bix tin. Garry had a hinged steel plate bolted onto the floor of the second spare wheel well. The Weet-Bix tin is placed on the well floor and the plate lowered over the tin and padlocked onto the boot floor. It may be a child's cereal tin but it certainly won't be child's play to break into it.
The fuel pump needed to have extra protection as well. So after installing mud flaps behind each wheel the boys had some spare pieces left over. They used this tough, rubberised plastic material to fashion a protective screen around the fuel pump. Waste not, want not.
In order to increase storage capacity for the many spares and tools that would be needed the rear seat squabs were removed. Their removal also facilitated the installation of four point harnesses, a requirement of the rally rules. To prevent the harnesses falling behind the front seats when not in use, making it hard to retrieve them when belting up, a bungee cord has been stretched across the car from one seatbelt mounting bolt to the other, with a second bungee cord twisted around it to stop any sideways slipping. This presents the harnesses much more readily, in the manner of a W126 SEC seatbelt arm. Yeah right!
As an additional safety feature chains have been attached to the engine so that, should an engine mount break, the chains will prevent the fan from hitting the radiator. Other modifications include overhauled or uprated suspension, springs, shocks and bushes. A bespoke aluminium sump/gearbox guard has also been installed. Larger wheels, fitted with eight ply commercial tyres, have helped lift the ground clearance. These modifications are all designed to help the car survive the rugged gravel roads.
Surprisingly the luxurious front seats remain. No hard, moulded racing seats here! Comfort being the main concern for these two 'old arses'. For the 23 driving days of the rally these seats will be Garry and Ken's favourite armchairs (but no slippers!). Apart from the missing backseat, the four point harnesses and the Terratrip rally meter, the interior is surprisingly original and comfortable.
Of course age will present its own problems en route. Plenty of time could be wasted unnecessarily if their (presumably frequent) roadside toilet stops are not carefully coordinated. Age also brings with it the challenge of hearing loss and the possibility of misheard navigational directions, "I said SLOW not GO!" This is a topic of much hilarity between Garry and Ken…at the moment.
What do their better halves make of the dynamic duos Inca Adventure?
Well I suspect Ken will be checking his luggage very carefully to make sure there isn't a Noelene hidden somewhere within. Apart from wishing she was going, overall Noelene feels quite confident in Ken's ability to cope with the demands of driving, especially given Ken's motor racing background. She also feels that his laid back nature will prove valuable if the going gets difficult.
Alison has her reservations about Garry's participation. A particular concern being the effect of high altitude. She also feels this is a big step up in terms of length, intensity and environment compared to other classic rallies Garry has participated in. Alison realizes though, that Garry has an as yet unfulfilled passion for this kind of event and so is supportive of Garry in that respect.
I've been lucky to observe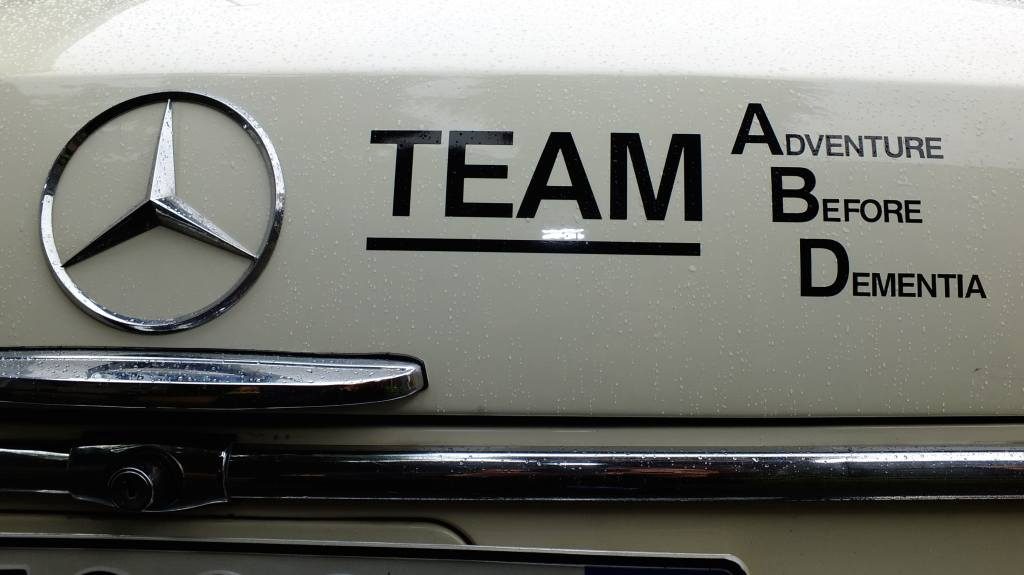 Garry and Ken during some of the preparation time leading up to the car departing. Every time it has been amazing to hear their passion and see the sparkle in their eyes when conversation inevitably turns to the car and the event. Laughter and hilarity is never far away. It will be this great friendship that gets them through I feel. Both Garry and Ken have a 'roll your sleeves up', Number 8 wire, 'fix it with what you've got' attitude. Garry's courtesy of his plumbing years, and Ken's from his extensive motor racing background. Two genuine Kiwi blokes living their dream.
So look out Rally of the Incas, 'Team Adventure Before Dementia' is coming.
Greg Lokes
Click here to view more photos on our Gallery page.