The day dawned grey and overcast. Wonderful I thought, we are so lucky, no sunburn today! No one got sun burned on Saturday either, on the Tours d'Elegance. The Tour is one of the big driving events of the year, comprising tours from six different starting points culminating in a picnic at St Heliers Vellenoweth Green.
But Sunday was the Intermarque Concours and Classic Car Show. I arrived at the Ellerslie racecourse venue just as the boys were completing the club marquee erection. We had a good hour before the rain really set in. We were so lucky! The grass was really thick and strong, no skidding or sliding and the arriving cars looked beautiful manoeuvring through the rain. The Horseless Carriage Club Fords and Packards all paraded past.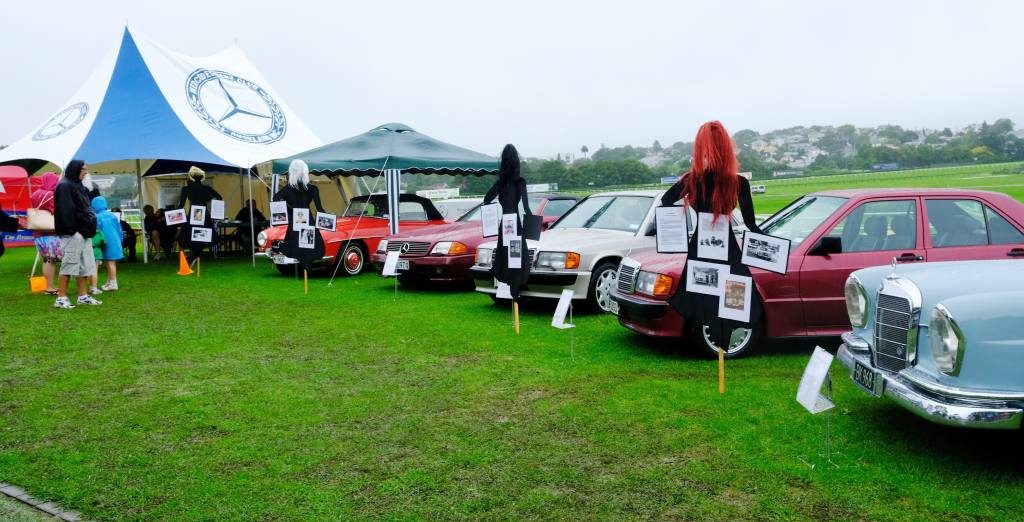 I must say our display did the Mercedes-Benz Auckland Club proud. 'Women and the Marque' was the theme this year. Barb and Greg had produced cut-out female figures complete with wigs bedecked with posters proclaiming daring female feats associated with the adjacent car. Fascinating reading. And those girls never once complained.
Now the cars. I had my venerable SSK there, Brian Hood took Roy Hobson's burgundy 1992 500 SL along and Colin Carran took his smashing red 1960 190SL. There were two examples of the 16 valve 190E – Paul Eaglen's maroon 1989 2.5-16 and Richard and Rosie Glenn's champagne 1987 2.3-16. Rounding it off was a Finney – Phil Henley's eggshell blue 1964 220SEb. Paul also had the history of the 190E-16 printed out and laminated (waterproof!) which we taped around the marquee for perusal by the masses.
Meanwhile the judges were busy undercover in and about the main stand which is quite an extensive area. This was one on the few (but not the only) times that the outdoor circle was not utilised due to weather. Club displays were many and varied though a few had pulled the plug and not turned up, but most were there and appeared to be really enjoying it. I know I was. Happy faces everywhere and not a complaining word. How could one be unhappy surrounded by such fabulous metalwork. An array of ancient, modern and everything in between was on display. In the rain. But hey, it was warm and no one was getting sun burned.
Our brother club the Jaguars were hosting this year. They must have had over 100 vehicles there, saloons, sporty XK's of all vintages, coupe's, the old and the new. Sir William would have been delighted.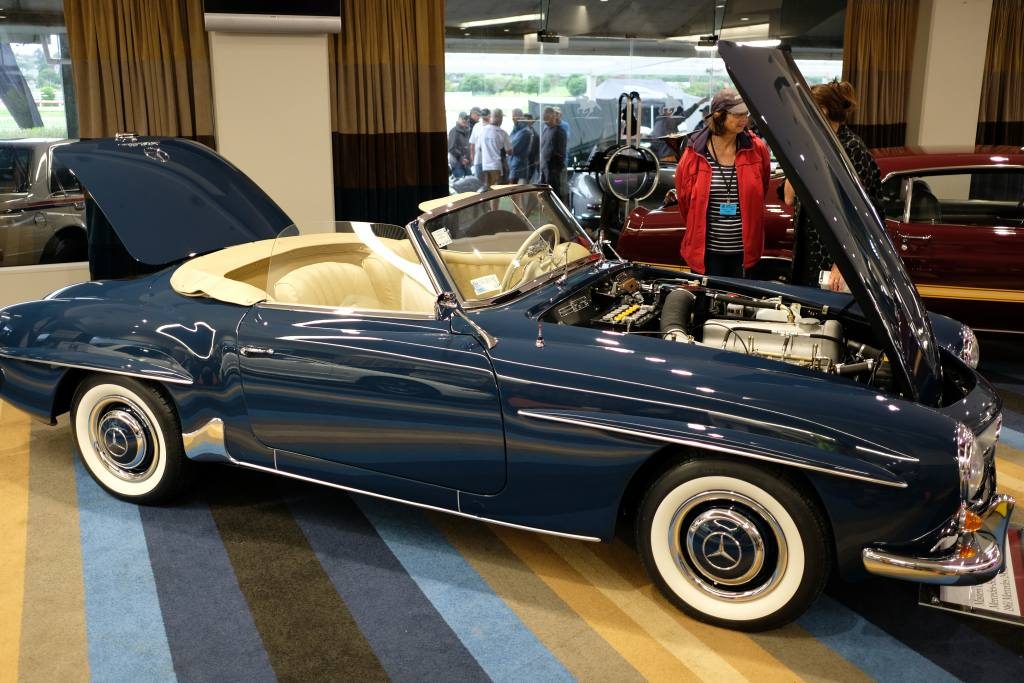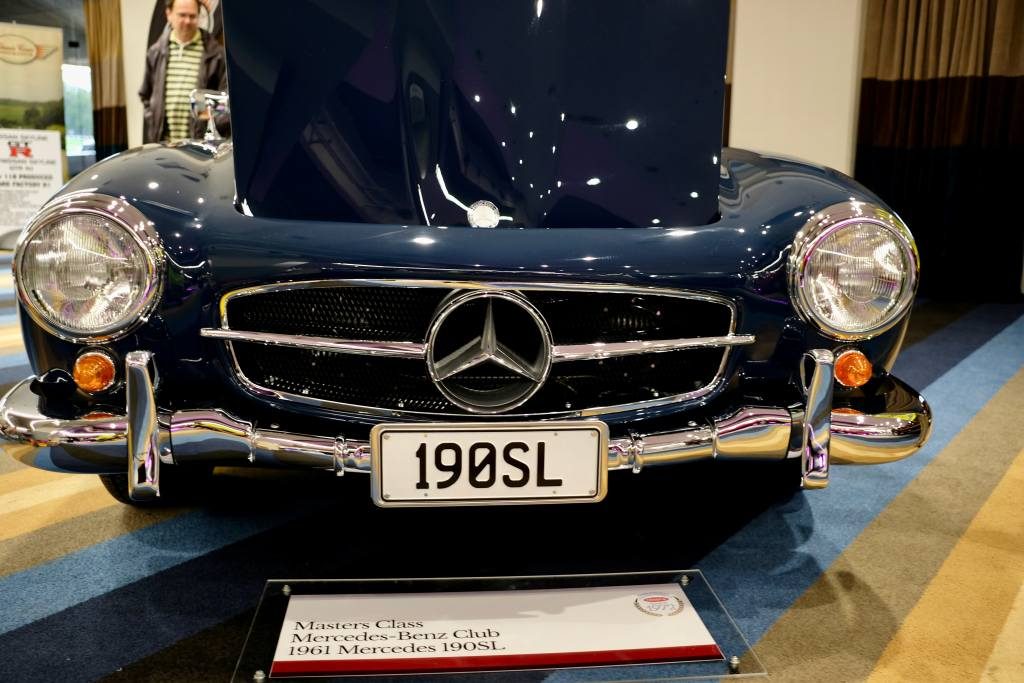 Meanwhile back at the sharp end the sleek Mercedes were sweeping up the silverware. Master Class event honours went to president Harald Decker and his superb 1960 190SL with a record 571 points out of a possibly 590! Well done Harald, she is a blue jewel beyond compare.
And then the Teams event, which went also to Mercedes-Benz Club, with Garry Boyce's two (yes, that's two) identical 1957 300 SL's.  Garry leaves nothing to chance; always wise to have a backup car. Now, I hear you ask, who had the car with the highest of any points in the show? Yes, you guessed it, Garry with one of his SL's. And his other SL was second highest. Well Garry it is not so bad getting second if the guy that beats you is yourself!
But wait, there is more. For the first time in living history, or recent years anyway, our club made it to the podium in the club display competition. Yes, third place! Well done Barb and Greg and all you other chaps that contributed.
The outcome of all these great results is that Mercedes-Benz Club Auckland will be the hosting Club for next year's event!  Detailed score sheets on all the cars in all the categories (which are too numerous to publish here) are available at www.concours.org.nz.
Garry in his role of Chairman of the Concours Committee, had the privilege of selecting the chair's choice. To popular acclaim he chose the MKI Ford Zepher convertible in dark green with period caravan hitched on. Truly a worthy recipient.
By the time all this merriment was over (such fun!) it was after 4 o'clock and the rain was easing. So, we decamped, packed everything into the trailer and headed for Garry's place to celebrate a wonderful result. Garry had kindly invited all involved to join him and Alison in the aftermatch festivities. We all had a very convivial time quaffing his champagne and eating pizza. What a fitting ending to an amazing day!
As for the sopping wet marquee. A big thanks to Bill Bray for organising David Winn, Lyn Hood, Hein Vankan and Brian Hood for erecting the marquee on Monday, to dry, be cleaned, and then repacking the club trailer. Also, Willy Vankan for refreshments and Kayden for putting the tractor away when we had finished.
The next show is the British and European Car Show by the Howick Historic Village on Sunday 4th March. Bring it on!
Graeme Collie
Click here to view more photos on our Gallery page.