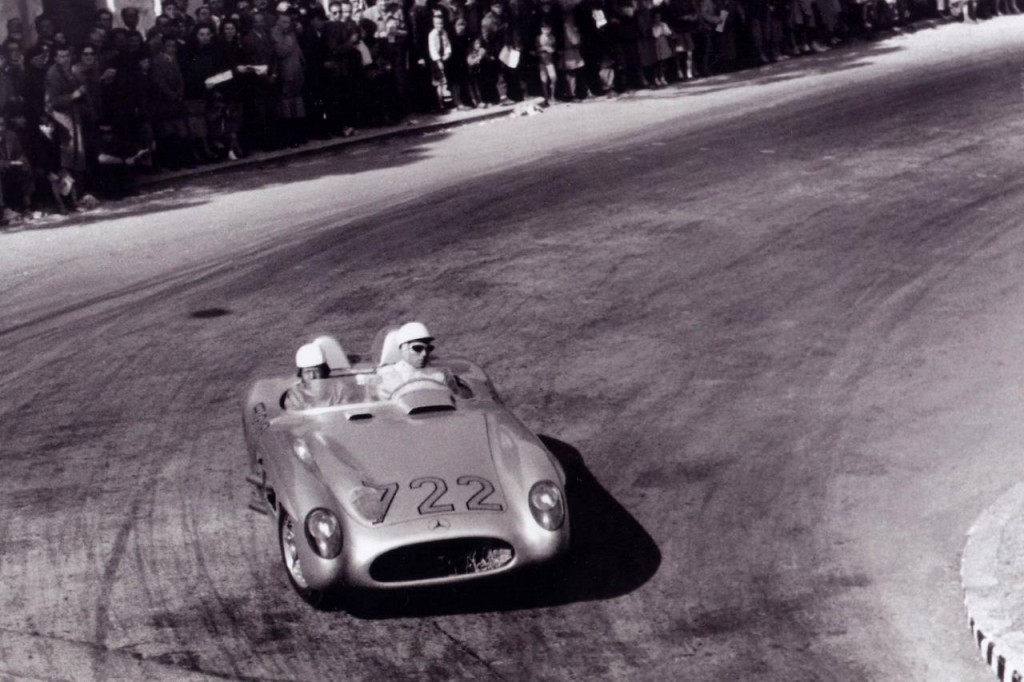 Garry's garage was a magnet in October for any red-blooded car enthusiast keen to help celebrate the 60th anniversary of the greatest race – Mercedes and the 1955 Mille Miglia. Sixty years ago Stirling Moss (then aged 25) and motor sport journalist Dennis Jenkinson (34) shared a works Mercedes Benz 300 SLR in its debut race. The result was the most iconic single day's drive in motor racing history.
Anticipation was high and a real buzz in the air as around 70 Club members and guests – including visitors from the Midlands Club, NZ Classic Car's new editor Ashley, and Andreas from Mercedes NZ – all gathered in the Parnell garage. We weren't to be disappointed.
A devoted fan of the Mille Miglia and regular attendee, Garry started with an introduction to his collection of Mille Miglia posters, memorabilia and paintings. The paintings were a pleasure to behold, but he'd discovered with some amusement that each were factually inaccurate in some detail, with perhaps a little too much artistic license taken in the moments of the race shown.
Then came the grand unveiling of Garry and Alison's latest acquisition. What appeared to be a rhinoceros under cover dominated the garage and had everyone guessing at what truly lay underneath. There were gasps of pleasure and a huge round of applause as the cover was peeled back to reveal the stunning 1938 Mercedes 540K. Recently restored, it was resplendent in all its glory, with luxurious sweeping curves, mother of pearl dashboard and chrome that went on forever. This straight-8 with supercharger will turn many a head and we can't wait to see it out on the road. As Garry so aptly said, 'simply drop dead gorgeous'.
And there was more… Garry presented a series of photos of Mille Miglia from his recent visits, while sharing a wealth of topical and technical insights – even the girls were caught up in the moment. The 722 (numbered for the 7.22am start time) is now rated as the most highly valued classic car today at a staggering US$55 million. It was also news to many of us that the classic 'panda' faces of Stirling and Dennis were mainly due to asbestos brake dust from the inboard front drum brakes. For the last 80 miles of the race 722 had no brake shoes left, just braking on the aluminium castings. Garry's knowledge, enthusiasm and passion was contagious.
The evening was rounded off perfectly with Alison's reading of the famed 1955 Dennis Jenkinson article 'With Moss in the Mille Miglia', complete with video clips showing in the background. Alison's abridged reading took us all out there on the road, good times and bad, thrills and spills, right through to the win – goose bumps appearing on many an arm. Rated as the finest piece of auto writing of all time, everyone should read it. You can find it at the Motorsport Magazine archive www.motorsportmagazine.com.
A huge thank you again to Garry and Alison for hosting such an enjoyable and highly memorable evening.
Alison Lambden
[huge_it_gallery id="26″]