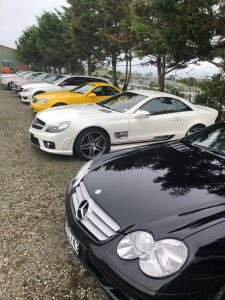 The weather …
In Auckland …
This year …
I don't really need to say anything more …
True to form, the rain came on Saturday when I decided Wolfgang (yep, that's his name!) needed a spruce up to make him presentable to the judges on Sunday for our club Show n Shine. It was raining so much that I cleaned him in the garage – which actually worked much better than expected.
And the weather didn't look very promising on the drive to the North Shore Vintage Car Club on Sunday morning. I didn't even have the roof down because there were raindrops falling on the windscreen.
When I arrived, a tad early, the gates were still locked and there didn't seem to be anyone around but, after about five minutes, Ross from the NSVCC arrived to unlock them and the three cars that had gathered drove slowly in. As I parked my car along the fence line more cars arrived until we had 17 cars lined up.
Some had come for the Show n Shine, others for the Gymkhana (to be held straight after the judging), some for both events, and some were there just to watch.
Nevertheless, it was decided by the four judges (thank you to those who volunteered!) that all cars present were to be scored even if their owners hadn't prepared them specifically for the Show n Shine. Apparently, an allowance was made for one car which had a fresh bird deposit on the boot. I really don't want to know what the "freshness" test involved …
We had a few vehicles that couldn't resist trying out the gymkhana course before the Show n Shine. Well, one tried the course and then had to be rescued by another but that's another story! This may have affected their chances of winning the Show n Shine… (Ed comment: was this the same car that lost points last year because they tested the course before judging?!)
After about 40 minutes the judges had all scored each car (there were four categories – Interior, Exterior, Glass, Wheels) and the results were tallied. Congratulations to those who won the two categories:
Classic – Lindsay Younger
Modern – Russ Clarke
Then it was onto the Gymkhana and a BBQ lunch afterwards (thanks Chris for bringing the food bang on time, and for manning the BBQ).
It was great to see a mix of people and cars come along – we even had a Japanese Mercedes (a Lexus) attend! It wasn't scored for the Show n Shine. We had past members, brand new members, and members we hadn't seen for a long time come along on a day that started off cold and promised more rain. Thankfully the rain didn't come and we even saw some sun later on. I guess the weather in Auckland isn't that bad after all!
Mike Peters
The complete list of results is here