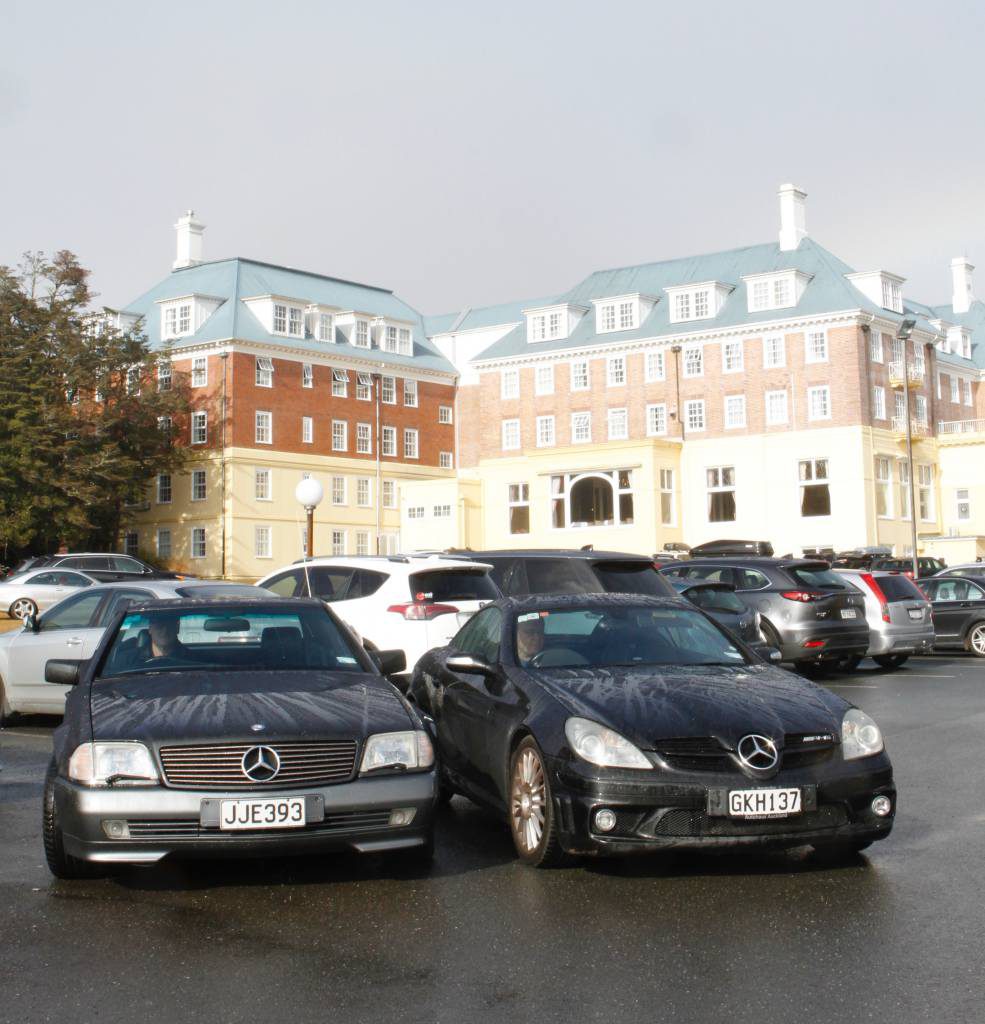 We were privileged to join the Midlands Club at Tirau to kick off our run to The Chateau.  For Chris and I, we had been royally looked after by Mike and Lorna Peace at their farm the night before and spent a lovely evening enjoying the friendly banter of regulars at the Morrinsville RSA.  Our first stop after a delightful drive from Tirau, taking the western route around Lake Taupo, was at Turangi for an old-fashioned pub lunch. From here Mike had organised to take us to those special places you always wondered about, but never seem to have time for, off Desert Road.  We stopped at a Hydro Electric station down Kaimanawa Road, that straddles the Tongariro River, where we single file drove across the top of the dam that could easily have been in the Canadian Rockies, such was the vista awaiting us.  Then we drove on to Tree Trunk Gorge Road to witness mother nature at her finest in a gorge where water roared underfoot with deafening power through boiling rapids.
After all that fresh air it was off to The Chateau to book in and catch up with friends and meet new club members.  The Chateau evokes times past and it is all too easy to slip into the era of wiling away the hours sipping a glass of fine wine in front of the roaring fire, gazing out to the wonder of the snow-clad mountains.
The next day the weather wasn't conducive to long walks through the tundra so it was a more sedate start to Sunday, looking forward to a fine buffet lunch, bunches of daffodils, half a lamb raffles and good company. This year saw more than 90 members attend, a record, making it the perfect occasion to be introduced to the new Manawatu club patron, Milton Pedley.  Milton regaled us with his lifelong love of Mercedes, the changes he has witnessed and his achievement of driving 1 million Mercedes kilometres!! Milton touched our hearts and is an amazing ambassador for the Club.
Many other members received their badges and certificates for kilometres clocked up and is truly indicative of the ongoing love for following your star. We bid each other farewell and vowed to do it all again next year! Thanks Manawatu for your hosting of such a fine event and I can only encourage those that have not attended to make time in 2020, you'll be glad you did.
Angelique de Jong