CHATEAU LUNCH – 29/30 August
The time to book for the amazing Chateau lunch has arrived again.
This is an annual Manawatu Club event and it is with pleasure that this year the National Club are providing support to our Manawatu members in financially backing this event.
Saturday 29 August  run down to the Chateau
Meet at the MSA (BP station) on the Southern Motorway (just south of Papakura) at 8:00 for an 8:15 departure south
Drive down to Enchanted Café at Tirau, to join the Midlands Club at the at 10:00 for a 10:15 departure.
Driving down to a lunch at Taupo, via a picturesque and challenging route and stopping at the "Carters of the Moon"
After lunch may your own way to the Chateau
Join in at any stage.
Sunday 29 August  Chateau Lunch
Arrival time: 12 noon for luncheon.  For a some convivial conversation with other NZ members in the Great Lounge, you may prefer to arrive earlier.
The total cost is $40 per person.  Drinks will be available from the bar at your own cost.
RSVP and Register, by Friday 14th of August 2020, here – https://mnz.mercedes-benz-clubs.com/annual-run-to-chateau-tongariro/
 Payment can be made into the Club account: 01 0745 0418460 00
Ref: Your Name and Chateau Run
Please Note:
A few members have taken the opportunity to stay for the weekend and get to know members from other regions, also admire the cars which fill the car park.
You will need to make your own booking at the Chateau if you would like to arrive on Saturday night (ph 0800 242 832).
It will be Ski season, so rooms are more likely to be available if you book early. Also mention that you are part of the Mercedes Club group.
Looking forward to seeing you at the Chateau.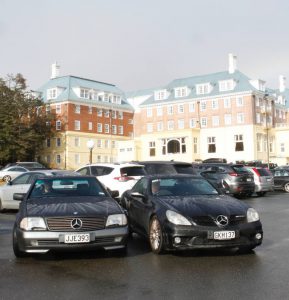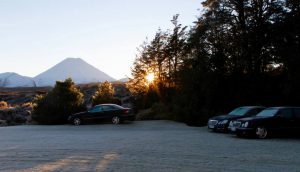 The Great Scenic Scavenger Hunt – 27 September
Yes the ever popular scavenger hunt is back. Meeting at The Olive Kitchen and Bar, 233 Scenic Drive (Titirangi end) at 10 am for a debrief and start at 10:30 am sharp. The Olive Kitchen will have coffee available beforehand.
The Great Scenic Scavenger Hunt will be undertaken over the two hours, meeting for lunch back at the Olive Kitchen after taking selfies at the designated check points as you scavenge the Scenic West. This Hunt will be through some of the most beautiful and special places in Auckland.
Prizes for the winner and runner up and one for the best and most interesting find will be awarded.
The Scavenger Hunter is always enjoyed by all, so book this Sunday Scavenge on the 27 September and come along for a day of fun.
Organised by Chris and Angelique

New Plymouth Garden Tour – 7-8 November
Join us for a weekend exploring the spectacular gardens and the amazing roads around Taranaki. Either drive down Friday or early Saturday morning.  Friday evening will be informal with no scheduled activities.
Saturday (7th) will start with a group breakfast before heading off on a pre-planned route taking in a selection of top gardens with some excellent driving roads between followed by a group dinner that evening.
Sunday (8th) will be your own choice of recommended activities leaving you free to choose your own departure time.
Accommodation will be booked individually under a group booking for the best price – Auto Lodge Motor Inn
More details to come by email – https://www.gardenfestnz.co.nz/.
027 495 3307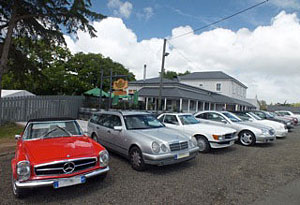 Upcoming events 2020, details to come:
December 12th Christmas function