Saturday 8th February 2020 – Tour d'Elegance
Where: Ellerslie Racecourse
Organised by the MG Car Club, this "open to all" event is one of the biggest classic driving events on the calendar.     It will happen on Saturday 8th February, the day before the Ellerslie Classic Car Show and for 2020 there are new tours and a new format.  All tours will start at Ellerslie Racecourse and all will finish at the Hunting Lodge in Waimauku
Details here: https://www.concours.org.nz/tours-info-and-online-entry.html
Sunday 9th February 2020 – New Zealand Classic Car magazine Ellersile Car Show
Where: Ellerslie Racecours
Enquiries: Chris 021 747 161 or haliday@xtra.co.nz
Your Club will again be on display to the public with a selection of vehicles of interest, so mark the date and come and support your team. You can get your tickets for 2020 show now at the special early bird price. Be in quick, this offer is only available for a limited time. https://www.iticket.co.nz/events/2020/feb/ellerslie-car-show
Sunday 1st March 2020, 10am-3pm. BRIT & EURO CLASSIC CAR SHOW
Where: Lloyd Elsmore Park, Pakuranga
This is a free, family friendly day out for enthusiasts and admirers, show-casing 100s of European & British Cars. Something for everyone with lots of eye candy on offer.
This is a 'Show and Shine' event for ALL our Club cars & not just for concours examples, although we will probably run a casual 'People's Choice' competition.
Our Club marquee will be there, & there are plenty of food stalls on site, so we look forward to a good turnout of Club Members & their cars for all to admire.
You don't need to register as they are expecting 30-35 Mercedes Club cars, BUT cars need to arrive at 9am for a 10am show start & must stay on site till at least 3pm due to OSH rules.
Our site will be the same as last year so we will be entering at the gate in Bells Rd. By the Howick Historic Village.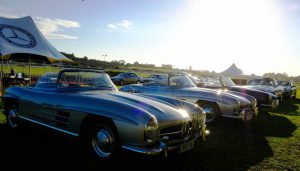 Upcoming events 2020, details to come:
Sunday 15th March – Grass Gymkhana, North Shore
April – Top Down Tour, TBC
23/24 May – National Club AGM, Prince's Gate Hotel Rotorua
14th June Auckland AGM