Sunday 2 May 10:30 for 11:00 start – TOP DOWN TOUR
Enquiries: Daryl Jeffery 027 497 6366
This is the 7th annual Top Down tour.  Surprising what a good that started 7 years ago has grown into.  So, get your tops off and show off your beautiful car.  Meet at the BP Motorway Service Centre @ Papakura, off the Southern Motorway.  Wander and admire our beautiful cars, or grab a coffee if you get despite, before we kick off @ 11:00.  There is an exciting drive planned through the awesome roads of South Auckland and North Waikato.  Mixing a motorway cruise, with picturesque rural and a splash of urban.  You will also be challenged with some minding bending questions.
Convertibles, sunroofs, and hard tops welcome.
Location:               Southern Motorway – Papakura MSA
Date:                     Sunday 2 May
Time:                     10:30
Contact:               Daryl – 0274976366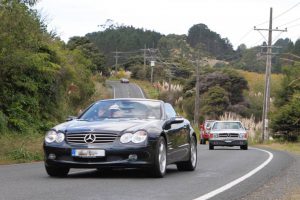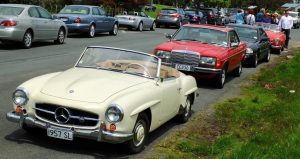 National AGM
This year in Rotorua.  The Auckland Club is arranging a cruise down there for those interested – details to come.

Mercedes-Benz Club of New Zealand Inc
47th Annual General Meeting 22th-23th May 2021
Registration closes Sunday 9th May 2021
 Venue & Accommodation 
Prince's Gate Boutique Hotel
1057 Arawa Street, Rotorua
Ph: +64 7 348 1179
www.princesgate.co.nz
Accommodation Booking 
PLEASE BOOK YOUR OWN ACCOMMODATION
PROGRAMME
Saturday 22th May
3:00pm – Management committee meeting
6:00pm – Pre-dinner Cocktail hour and drinks in the lounge area at Princess Gate Hotel (cash bar available)
7:00pm – Dinner and private Cabaret show at the Princess Gate
Sunday 24th May
9:00am – 10:00am
AGM of the Mercedes-Benz Club of New Zealand
10:00am – Morning tea

 
Cost: For dinner and Cabaret, plus morning tea after AGM – $100 per person
Register here – https://mnz.mercedes-benz-clubs.com/agm-registration/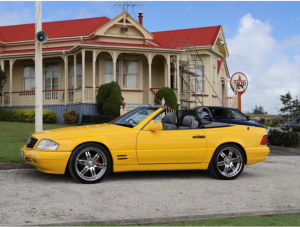 Upcoming events 2021, details to come:
12 June Ak AGM – John Hill Estate
July Paint & Wine – Mission Bay
August Prize Giving – Akarana Yacht Club
28/29 August – Chateau Lunch
September – Fun run North Auckland
October – Economy run to Hamilton gardens
23-25 October – Overnight run to Northland
November – Garage Raid